Masjid is open for congregational prayers. Please follow the safeguarding procedures displayed at the Masjid. Please wear a mask & keep your distance from others, make your Wudhu at home.
JUMUAH TIMES
FIRST JAMAAT: 1.30 pm, SECOND JAMAAT: 2.15 pm, THIRD JAMAAT: 3.00 pm.
We thank you for your continuous support during this pandemic.
We request that you follow the local guidelines to help reduce the spread of the virus.
We pray that Allah safeguards us, grants this ummah relief & cure during this difficult time.
For any inquiries please email the Masjid at enquiry@masjidusman.org.uk
To donate towards Masjid as Sadaqah Jariyyah
Set up a standing order or for one-off donations
Masjid e Usman (Capehill Muslim Society)
Account Number: 31743945
Sortcode: 40-11-13
Ref: Donation
Madrasah new year starts on 1st September 2021.
From September Madrasah will open in two sessions.
(Session 1) 4:20pm – 5:50pm
(Session 2) 6:00pm – 7:30pm
All parents will be required to drop & pick up their children on time off at the Masjid.
To receive updates, please ensure that we have an up-to-date mobile number.
For any inquiries, please contact the office on weekdays between 4.15 pm & 7.30 pm on 0121 5655767
On Saturday 25th September 2021 after Maghrib (7.00pm)
A faith reviving event for brothers & sisters
Fiqh Lessons Every Monday after Isha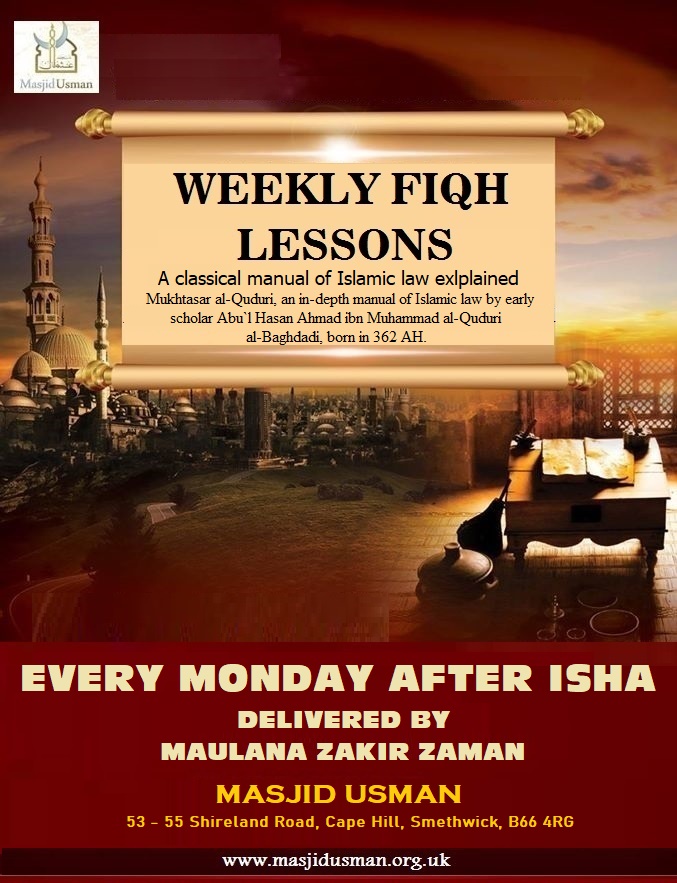 Practice your Quran & Salah with the Imaam
Every Saturday after Isha