Masjid is open for congregational prayers. Please follow the safeguarding procedures displayed at the Masjid.
JUMUAH TIMES FROM NOVEMBER 2021
FIRST JAMAAT: 12.30 pm & SECOND JAMAAT: 1.15 pm
We thank you for your continuous support during this pandemic.
We request that you follow the local guidelines to help reduce the spread of the virus.
We pray that Allah safeguards us, grants this ummah relief & cure during this difficult time.
For any inquiries please email the Masjid at enquiry@masjidusman.org.uk
To donate towards Masjid as Sadaqah Jariyyah
Set up a standing order or for one-off donations
Masjid e Usman (Capehill Muslim Society)
Account Number: 31743945
Sortcode: 40-11-13
Ref: Donation
Lessons from the Seerah
On Saturday 25th December 2021 after Isha (8.00pm)
A faith reviving event for the whole family
Sisters Coffee Morning Every Thursday at 10 am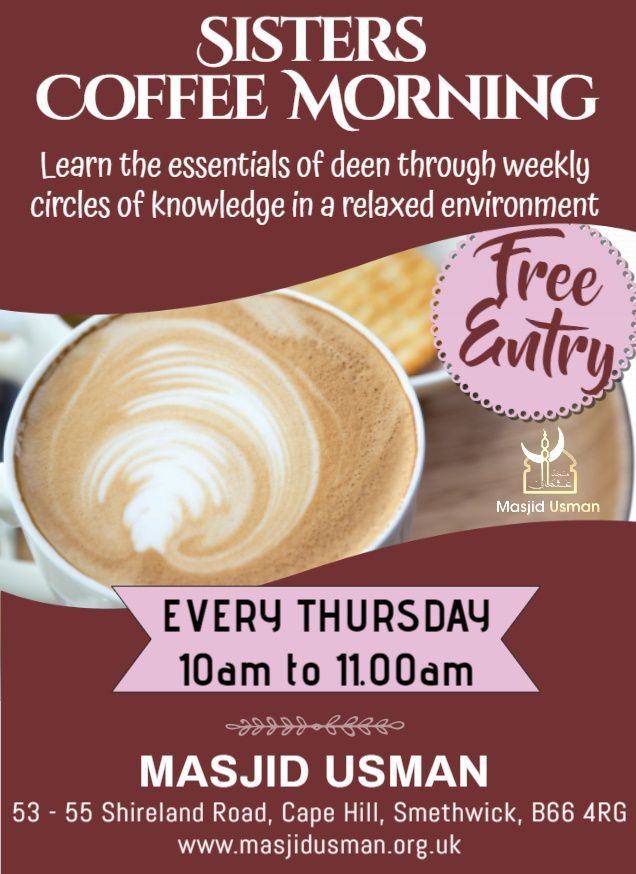 NEW CLASSES STARTING 16th OCTOBER 2021